If you drain garden hoses in the fall or between jobs and have a portable air compressor you may find this adapter a big time saver.  It is assembled out of a few dollars worth of parts from the hardware store:  a ball type hose valve, an air hose adapter, an appropriate thread adapter, and thread tape.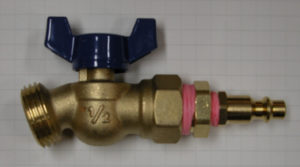 With the valve off, attach the adapter to your air compressor.   Run the compressor to shut-off, unplug it, and carry it to your hose.  Remove the hose nozzle and secure the hose end as it may thrash around.  Disconnect the hose from the water source and attach it to the adapter.  Crack the valve open slightly to start the water flowing.  Moderate the valve to get a typical flow.  When the hose starts to sputter, briefly open the valve fully to blow the last of the water out.
This will empty reeled hose as well as coiled or loose.  A 3 gallon tank will clear a 50 foot hose in one shot.  A 6 gallon tank is sufficient for a 100 foot hose or a couple of 50 foot hoses.